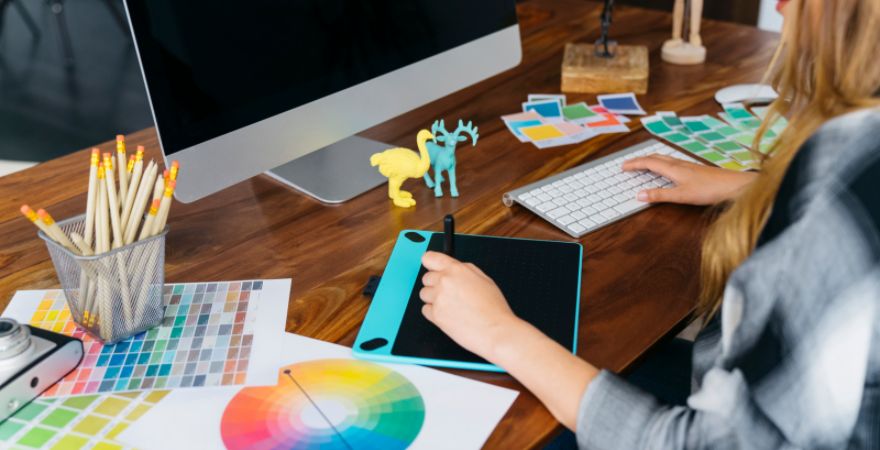 If you are a graphic designer, you certainly need programs to perform your tasks. Are you still starting your career? We show you the best graphic design programs for beginners and their main benefits.
Digital communication requires much more than just texts. Graphic production and design are very important aspects to support dissemination strategies and the relationship with leads.
However, in order to create posts for social media and art for websites, it is necessary to resort to graphic designer programs.
On social networks, for example, the use of images in posts tends to increase conversion, giving a better and broader result than posts that only have text. Thus, the work of the graphic designer is very important for creating solid campaigns.
Also because graphic arts can be used to integrate the different social networks of a company. Material produced on Facebook is also used on Instagram or, who knows, on WhatsApp. Thus, the content generation process is facilitated and gains scope in business marketing.
But do you know what can be done with a graphic designer program? Read this post and get to know the possibilities of creation with these softwares and which products can help your Digital Marketing strategy.
What Products Can Be Developed?
Graphic designer programs are used to produce the most different types of art, as well as are essential for editing photos and images in general.
In other words, it is an important job for building profiles on social media and generating content for marketing campaigns.
Within this scope of work are: profile pictures; cover images; images for the timeline of various social media. Materials for websites and blogs are also part of this performance.
In short, it is a series of products that increase the visual impact of your posts and gather information in a more direct and objective way, facilitating sharing on social networks.
A process that helps to increase the reach of publications and, consequently, the scope and relevance of your posts.
Why Work With Different Programs?
Currently, there are 2 types of files widely used in graphic design: bitmap and vector.
The first consists of creating images from pixels, while the second deals with images created from geometric constructions and which can be enlarged without losing their definition or their level of detail.
The main programs for creating bitmap files are:
Adobe Photoshop;
Corel Paint Shop Pro;
Corel Painter;
Corel Photopaint;
Gimp.
The main files for vector art are:
Adobe Illustrator;
CorelDraw;
Freehand;
Inkscape;
Real Draw;
Xara.
Thus, it is necessary to understand what type of file you intend to do in order to choose the best programs to support your work.
Producing a post for Facebook, for example, is better when using Adobe Illustrator. However, if it is necessary to edit or make some correction to the image, it is advisable to use Adobe Photoshop, which is "brother" software. So they work together.
This understanding allows the development of quality work in which the main aspects of each of the software for the production of graphic arts are observed.
The designer starts, then, to work with several programs in order to generate more quality for their products.
It is in this aspect that the use of different software is necessary.
What Are the Best Graphic Designer Programs?
To help you choose the best graphic designer programs, we have separated, in the next paragraphs, some of the best options available on the market.
Are you curious? So be sure to follow our list!
Canvas
Opening the list is a free program. The Canva is easy to use and can be operated entirely on the Internet, ie, no need to do any installation on your computer.
Excellent alternative for those who are not familiar with other graphic design software. Users have access to several free layouts that can be used to leverage a Digital Marketing strategy.
Adobe Photoshop
Photoshop is probably the most used image editing program in the world. You may not even know how to operate it, but you've heard about this software.
Among its features are editing and processing of photos and editorial images, in addition to some functions of vector programs.
Thus, it is possible to create layouts, animations, photo montages, color correction and brightness in the images, among other options that make it extremely important for design demands.
CorelDraw
Basically, it is a software whose main objective is to create vector images.
It is an alternative to Adobe Illustrator (the next item on this list), mainly for beginning designers, who find a program that is easy to use and relatively low cost.
Adobe Illustrator
Currently, Adobe Illustrator is considered the vector program with greater application in the world.
Which makes it as the most efficient app in your field of work. Furthermore, it is integrated with other Adobe family software, such as Photoshop.
Grunt
This program is a task performer and is very efficient for the web designer, as it helps in the steps of building a website.
Thus, it generates facilities in a process that is often repetitive and consumes a lot of time in the routine of a programming professional.
As the web designer usually deals with similar processes when building a website or blog, Grunt allows you to automate a series of steps during the work, which makes production faster and more efficient.